Iwoland is blessed with resources of different types. In this post, for the year 2019, Iwoland Hub picks our top 7 entrepreneurs in Iwoland, we deem it fit to celebrate these individuals as they strive to contribute immensely to the economy of the land.
The government can't exist in isolation when it comes to boosting the economy. It needs individuals with their various activities in the business world to ensure we have a stable positive direction of economic activities.
Iwoland is a market where any product can strive. No doubt, the land has a number of entrepreneurs, small business owners and self-employed people who contribute to the economy of Iwoland.
However, there are other fantastic and industrious indigenes of Iwoland who are doing fine in the world of commerce. However, our team at Iwoland Hub picked these 7 individuals as the Entrepreneurs of the Year 2019 in Iwoland.
Note: This is our personal opinion and we believe the following entrepreneurs in Iwoland and businesses are worthy to be celebrated.
1- Alabi Tawakalitu Omolara Olutayo
Business Name: Beembz Creationz: Event Planning and Management Outfit
Alabi Tawakalitu Omolara Olutayo is the Executive Director of Beembiz Creationz. Omolara Olutayo is a social entrepreneur who focuses on sexual reproductive health, menstrual hygiene management, education and empowerment of women and girls, especially in rural communities.
She has organized and facilitated a series of vocational and skills acquisition training and sensitization talks on sexual and reproductive, health and menstrual hygiene management.
Beeembz Creationz and events is an events planning and management outfit that is designed to meet the needs of the ever-changing social world. With professional staff members and contract vendors, they plan events and sell events-planning products and equipment. They also train students in event planning and management.
Beembiz Creationz strives to strike a balance with their clients irrespective of class, age, social or financial status.
Beembiz Creationz's Services Include:
Event Planning
Event Management
Catering Services
Bridal accessories sales and services
Professional Makeup services
Beaded Jewelry
Event decorations
Cakes and Confectioneries
Sales and Training

Address:
Shop A5, Jakara shopping complex, Iwo, Osun state.
Ape's compound, Amin compound, Araromi, Iwo.
Shop 12, super moon filling Station shopping complex, Olunlade, Ilorin.
Social Media Platforms
2- OYESIJI SHERIFF A :
Business Name: SHERIFF AJY OYESIJI MULTI VENTURES 
OYESIJI SHERIFF A. as popularly called OSAS. He was born to the family of Alhaja and Alhaja Oyesiji Afis. A native of Ileogbo but born and brought up in Iwo, Osun state.
OSAS FISH
Osas Fish is produced and packaged by SHERIFF AJY OYESIJI MULTI VENTURES. It is a registered company with the Corporate Affairs Commission approved on 26th of April, 2018 with registration number 2600720.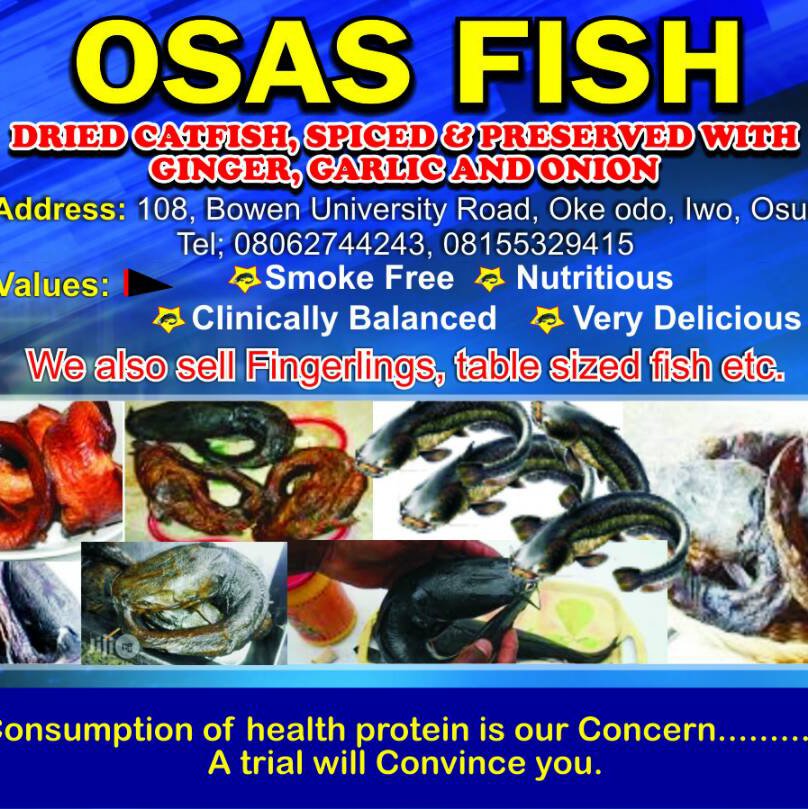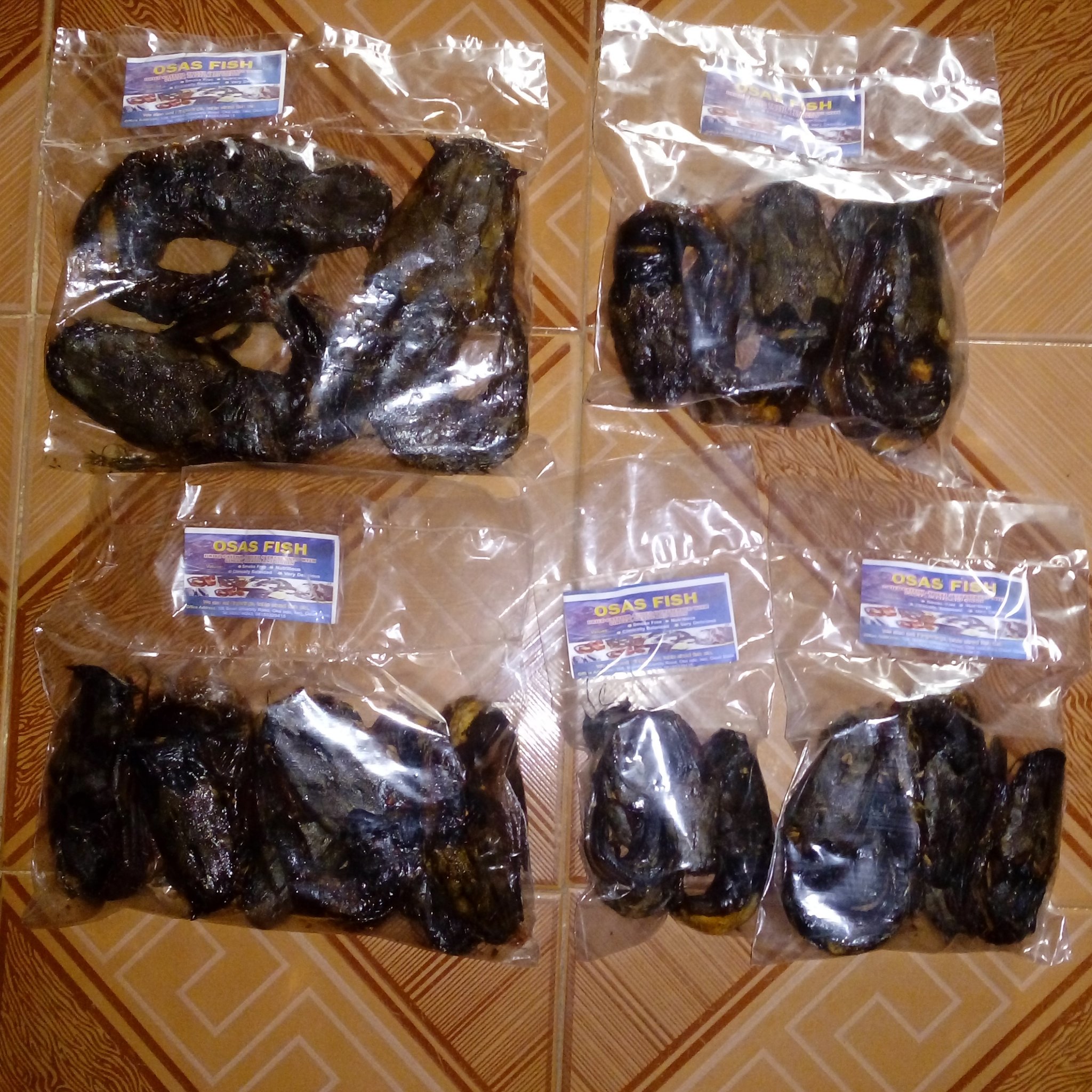 Osas Fish is smoked fish, spices and preserved with some medicinal plants such as onions, ginger, and garlic.
The smoked fish is of various species such as Clarias spp known as Catfish, Ciclids spp known as Tilapia, Mormyrups spp known as Eja Osan (Yoruba language), Panla fish, Crocker fish, etc.
Address:
108, Bowen University Road, Opposite Kadlab Petroleum, Oke Odo, Iwo, Osun state.
Social Media Pages
Facebook page – Osas Fish
Instagram – osasfish
Twitter – Osasfish
Email – osasfish355@gmail.com
Mobile/WhatsApp no: 08062744243
3- Rahman Ayodele
Business Name: Oyindowo Business Ventures
Rahman Ayodele hailed from Osin Compound, Gidigbo in Iwo. He is the CEO, of Oyindowo Business Ventures (OBV).  He is employed to manage Apiaries for a renowned Federal Institution of Learning in Nigeria. Through a series of searches and research works, he has come out with twin health products (Oyindowo Multipurpose Natural Ointment and Oyindowo Herbal Eye Cleanser).
The Business had been registered with the Corporate Affairs Commission (CAC) with Registration Number BN-2630351.
Apart from the Multipurpose Natural Ointment and Herbal Eye cleanser. He also deals in Pure Natural Honey from the right source and beekeeping Equipment (Smokers, Beesuits, Stainless Honey Presser with Hydraulic Jack, Rubber Boots, Rubber Gloves, Beehives, Hives Tools, etc).
Social media platforms
Facebook.com: Oyindowo Business Ventures
4- Keefa Yetunde Suhaebat
Business Name: Keefa Clothing and Design
Keefa Yetunde Suhaebat is an Islamic Fashion Designer that sew to sells Modest Wedding Dresses, Jalabiya, Abaya, Veils, Turban And Men's Wear.
Keefa Clothing And Design is registered under CAC with Reg No BN: 2704383.
She is also the founder of Keefa Life Foundation. An NGO that focuses on fighting hunger. Her NGO has helped 6 Iwoland women to start up their own small-scale businesses and had also touched different places.
Office Address
Beside Old Nepa Office, Junction Osogbo, Iwo, Osun State.
Social Media Links:
5- Busari Aderonke
Business Name: Idea Textiles
Busari Aderonke Sofiyat Adesewa popularly known as Hon Idea is from Ile Obe's Compound Molete ward 1. Aderonke is a graduate of the Ladoke Akintola University Of Technology, Ogbomoso. Busari Aderonke is the brain behind one off the best textiles business in Iwoland.
Idea Textiles offers a variety of textures inspired by world styles, shapes and colours. Fashion lovers can pick their choice from this wide range of fabrics, ready-made clothing, and accessories. Idea Textiles' products are of premium quality.
Idea Textiles also sells Adire at wholesale and retail prices too. It also training sessions for individuals who are Interested

Address:
Opposite state hospital Iwo, Osun state
Social Media Platform
6- Akande Rodiat Wuraola
Business Name: Goldkem-Herbs
Akande Rodiat Wuraola is a native of Iwo, Osun state. She is currently a student of Obafemi Awolowo University from the Department of agricultural economics. She's also a member of the United Medium-scale farmers (OAU) chapter where they rear bees as a member (apiary groups).
Rodiat Wuraola is a motivational speaker/writer. She likes adding value through her words. She's currently the CEO of Goldkem-herbs.
ABOUT GOLDKEM
Goldkem as a brand was founded in 2006. The aim of Goldkem is to use herbs and organic skin products to cure ailments and skin reactions. Goldkem formulates different kinds of herbs for different ailments. It also formulates mouthwash for good breaths and to avoid mouth odour and decay.
What does Goldkem herbal medicinal store offer?
Goldkem MEDICINAL STORE Offers;
Natural Herbs for any ailments i.e. typhoid, malaria, erectile dysfunction, premature ejaculation, enlargement herbs, haemorrhoids, etc.
Glowing/Allergy herbal soap i.e. pimples, rashes, skin reactions, measles, etc.
Natural glowing cream.
Stretch mark cream.
Flat tummy, etc.
Address
Headquater, 2nd gate Odo-ori market Iwo, Osun State.
OAU Campus, Ile-Ife.
Social Media Platforms
Instagrams: Goldkem-herbs
CONTACT INFO
Call/WhatsApp to place your order: 07063787843
Email: wuraolaakande@gmail.com
7- Oladipupo Sefiu
Business Name: SODLAD GAS AND ACCESSORIES
Mr. Oladipupo Sefiu was born in Iwo and he had his OND in Electrical/Electronics at the Federal Polytechnic Ede after which he proceeded to Obafemi Awolowo University Ife where he bagged his B.sc in Materials Science and Engineering in 2014. He is the CEO of SODLAD Gas and Accessories.
He started his business Sodlad Gas and Accessories and with his first branch at Oke-oree Iwo, he has grown to have many other branches at Oke -Elu compound, Ayefuye Phase 2, kobaope etc.
SODLAD COOKING GAS AND ACCESSORIES SERVICES INCLUDE
Selling of cooking gas at an affordable and friendly price.
Selling of cooking gas accessories, such as; Cylinders, Burner, Hose, Regulators, Gas cookers.
Address:
Iyana Iya Alakara, Oke-Oree Iwo.
Orita Merin, Oke -elu compound Iwo.
White Mosque, Ayefuye Phase 2, Iwo.
Beside Bride Church, Kobaope Iwo.
Kafabb Junction, Iwo-Ilegbo road, Iwo.
Contact Info:
08066867177
CONCLUSION
Iwoland is a business hub. Therefore, we want to urge all indigenes of the land to patronize our entrepreneurs in Iwoland, business startups, self-employed people and small business owners so that we can maintain a sustainable business hub.
The addresses, offices and social media platforms where you can reach them are there. They would available 24/7 to take your order and deliver a satisfactory job.
Do you know any amazing entrepreneurs in Iwoland? Scroll down and use the comment box below to drop their names. We also welcome observations and suggestions to make this platform fun for all.